Why I release 'This Is Nigeria' Video- Falz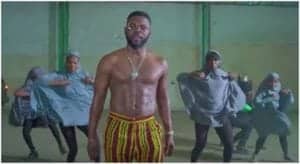 Photo credit: Tooxclusive.com
Just release of Falz new music video titled This is Nigeria, many have different reaction concerning the video. The video has also draw attention of a Muslim organization order Falz to cancel the video.
The Rapper who was interview by
Usifo Umozokpea of BBC Africa where he was asked the This is Nigeria video which have draw million views since it was released within days.
He told the interviewer, that reason for release for the video was to cover
of Childish Gambino's critically acclaimed 'This is America.He also reacted to backlash that ensued the release of the video.
Watch the full interview:
Credit: Tooxclusive.com